The virus is already having a serious impact on global supply chains. Many primary products and components come from Chinese production and many suppliers have experienced and continue to experience supply bottlenecks due to plant closures and logistics disruptions. The crisis area of Hubei Province with its capital Wuhan is one of the centres of Chinese car production. Almost two million cars are manufactured there every year, which is about 8% of the total vehicle production in China. Foreign car manufacturers such as GM, Renault or Honda and suppliers such as Bosch also have plants there (see map below) and more than 700 automotive suppliers are located in Hubei Province (VW alone has 39 suppliers from the crisis region with its SAIC joint venture).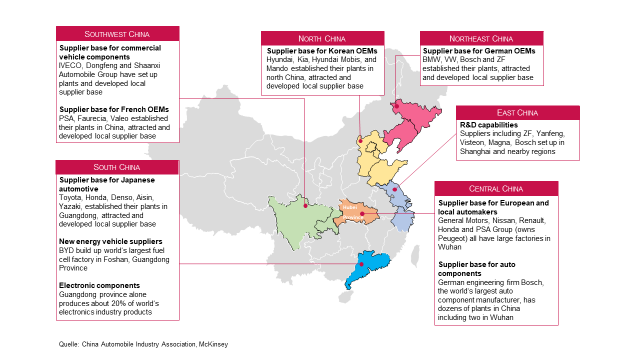 Practically all major car manufacturers (including VW, BMW and Daimler or their joint venture with Chinese state-owned corporations) have extended their plant holidays after the Chinese spring festival, sometimes for several weeks. VW had recently postponed the start of operations once again because of delays in resuming nationwide supply chains and because many employees could not return to their workplaces due to travel restrictions. Many plants are still producing at very limited capacity. Logistics within China is still severely restricted, in some cases so-called "travel passes" are still required to transport goods to other provinces, and drivers do not even head for certain regions for fear of infection or the threat of quarantine.
In the first few weeks, the plants in China were particularly affected, but due to the lack of production there and other disruptions in the supply chain, the effects outside China are also becoming increasingly apparent. Shortly after the Chinese New Year, reports of production stoppages were received from Korea, and in Europe a Fiat Chrysler plant in Serbia was shut down at the beginning of February due to a lack of deliveries from China. The car manufacturers Land Rover and Jaguar as well as suppliers such as Continental or ZF have announced that urgently needed parts for production will be brought from China to Europe by plane if necessary, and not by ship as is usually the case. Most plants in Germany still seem to be running without major disruptions, but the quarantine orders imposed on Northern Italy over the weekend give an unpleasant foretaste of what the German car industry may still be facing.