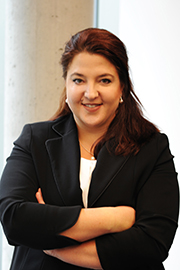 Navigating the rapids – Katharina von Hermanni's tips for success in the booming German real estate market
Brexit is good news for the German banking industry and even better news for property investors, but negotiating the best deal is not always straightforward, says Katharina von Hermanni, a partner in Luther's Real Estate practice since 2016.
A recent study by PwC and Urban Land Institute named Berlin, Hamburg and Frankfurt as the top three European cities for development projects, with Munich ranked fifth. Germany is also benefiting as pressures from Brexit are leading financial services firms, particularly, to look for a European hub. Citigroup is the latest bank to opt for Frankfurt, and the Association of Foreign Banks in Germany expects 3,000 to 5,000 new jobs to come to Frankfurt over the next two years.
"This will push demand even higher for office and residential accommodation and investors will have to make sure sellers are happy and that transactions are completed quickly. It's like buying a star football player – there is always someone willing to pay a higher price," Ms von Hermanni adds.
Stable interest rates mean property prices can only rise
Looking ahead to the next 12 to 18 months, Ms von Hermanni sees an increase in interest rates as the main factor which could change the market significantly. If interest rates remain unchanged, she believes that it will become increasingly difficult for investors to find the right opportunities. The environment is extremely competitive and will become more so.
Investors should cast their nets wider when looking for property
The sound economic situation, the robust employment market, increasing population and low interest rates all help to make Germany a "safe haven" for foreign investors.
With interest rates remaining low, opportunities in the top rated cities can still be found but there is increasing interest in areas just outside the better known hubs. In Ms von Hermanni's view, the main challenge for investors is to find an opportunity which is being offered at the right price, or where there's scope to achieve it. "In the most favoured cities, deals can be made but it's harder either because the purchase price is too high or there are a lot of legal and technical issues. Elsewhere, there is more potential, and more flexibility in pricing."
The market is changing – so investors should adapt
Many investors still see retail and residential property as the safest bet. They should look at the profits they could generate by investing in student housing and healthcare facilities, reflecting the changes in the ways that people live.
The growth in shopping online has also changed the landscape. Traditional retail malls are under pressure and they will have to reinvent themselves to succeed at a time when footfall is dropping.
With imagination and enterprise, malls can find new ways to attract people. "Visiting a shopping mall can be a great day out, offering wellness facilities, light shows, entertainment programmes and other attractions. A mall can also offer practical things, bringing in people who usually buy online: doctors, lawyers, a fitness centre, a creche for young children. The possibilities are endless and all these facilities generate income and offer a stable, attractive investment asset. One US mall even has a mini-golf course!" says Ms von Hermanni.
But the goods still have to come from somewhere – normally large logistics centres, where they are stored before being shipped out to their customers.
"It's a real opportunity for asset managers. In the internet age, logistics centres are key to success in the retail industry and can generate a steady investment income."
It's a seller's market – that's why a good real estate lawyer is vital
"It's important for me to understand my client's concerns, and the concerns of the other side. Finding a contentious issue and using it to argue for a price reduction won't help us achieve what we all want – a satisfactory deal," Ms von Hermanni adds.
"My team's approach is that when we identify an issue, we take the time to analyse the risk. Is it a general legal risk? Is it commercial or sectoral? If it's a serious risk, can it be covered by insurance, in such a way that it won't affect cashflow? In many cases, we can amend the agreement. A collaborative, hands-on approach helps to keep everyone happy. Our clients appreciate our ability to keep all the plates spinning and to handle all the issues in a pragmatic and practical way. We're part of the deal team."
"In short, the key to success in a real estate transaction here in Germany is to make sure everyone involved is sailing in the same boat!"
Katharina von Hermanni
Lawyer, Partner
Luther Rechtsanwaltsgesellschaft mbH
Karlstraße 10-12
80333 Munich
Phone +49 89 23714 17384
Fax +49 89 23714 110
katharina.von.hermanni(at)luther-lawfirm.com